2021-2022
The Bish swimming team of 12 lads began their year in January by competing in the Connacht Schools Senior gala in Castlebar.
All coming away with personal bests and representing the school well.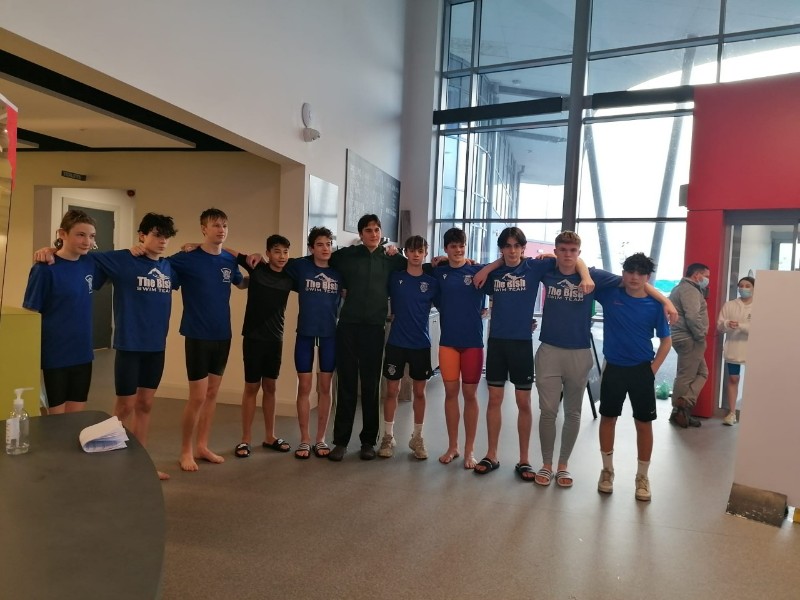 On the day there were 2 individual winners:
David Lennon winning Connacht Senior 100 metres breaststroke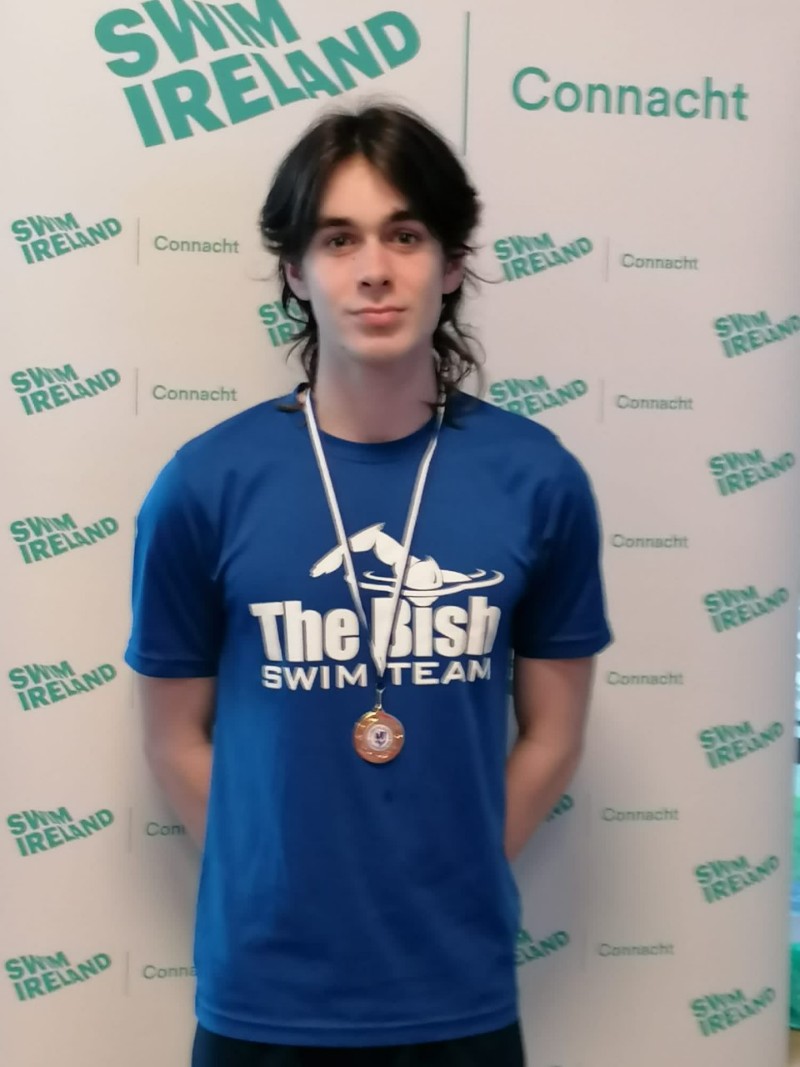 And Aleksander McAleer winning on the double Gold Intermediate 400 metres Free and gold 200 metres Medley qualifying for the Irish Inter provincials Schools Swimming finals representing Connacht.
The school Intermediate relay team made up of John Gibbs, Aleksandr McAleer, Cillian Mc Cullagh and Senan Mc Donnell qualified to swim in the Irish Senior Schools Relay Finals in Freestyle and Medley relays after winning Gold on the double in the 4 x 50 freestyle and the 4 x 50 medley relay.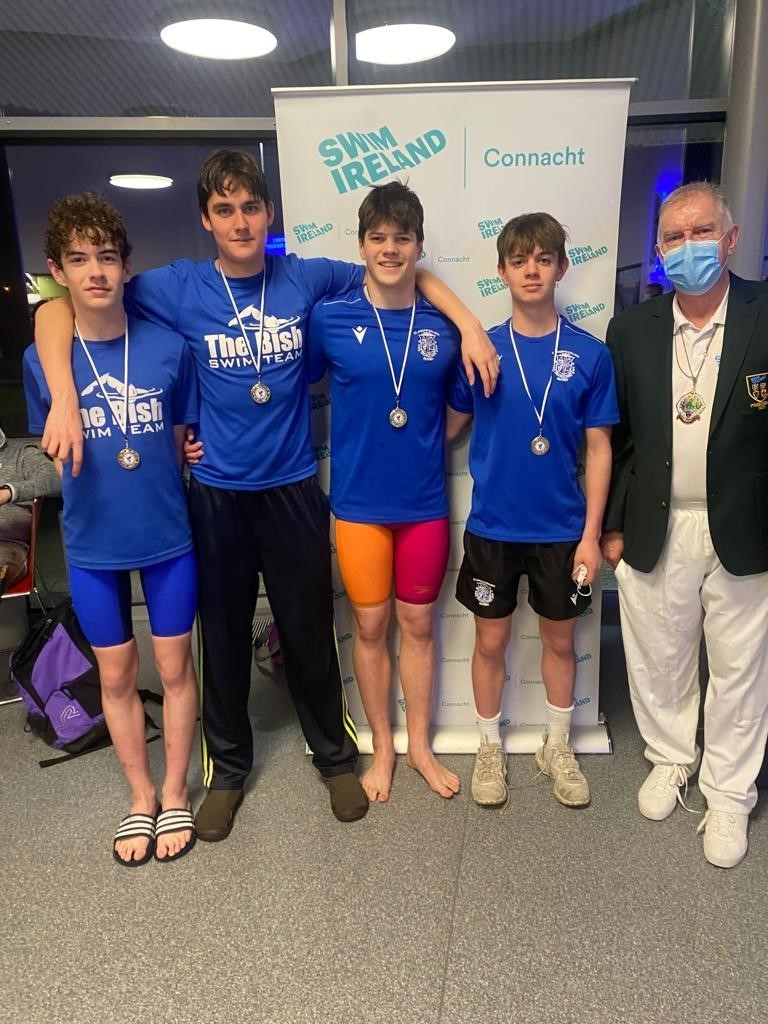 The Relay Team went on to the National Senior Schools Relay final in the National Aquatic Centre in Dublin. Swimming with speed and determination representing the school and winning on the Double again Gold in the Seniors school Medley Relay and were narrowly beaten into silver for the Freestyle relay.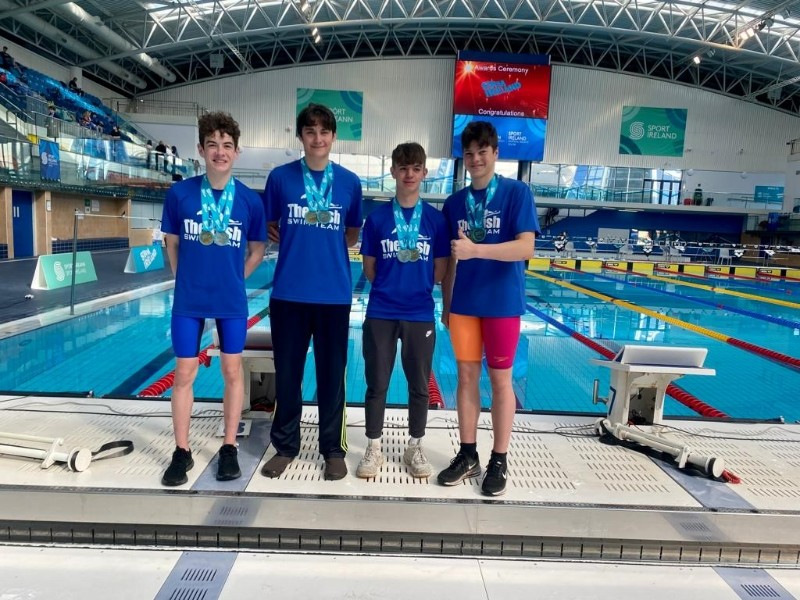 2019-2020
The school has many swimmers who train regularly with clubs all around Galway. The Connacht Senior Schools Swimming meet is the one opportunity in the year for all of them to swim as a team representing the Bish. This year it was held on Sunday the 8 th of October in Tuam. With an early morning warm up of 8a.m, our lads were there bright and early and full of energy to compete. The squad included:

Junior swimmers U14:
Paddy Grimes, Cian Hogan, David Lennon, Tamas Jager, Senan McDonnell

Intermediate Swimmers 15 – 16:
Boris Iakimov, Cian McGlue, Ben Naughton, Tom O'Sullivan, William McDonnell

Senior Swimmer 17 and over
Ryan Hornet

The school was successful on the day, bringing home 3 individual silver medals, 2 Gold Relay medals and 2 silver Relay Teams.
Tom O'Sullivan won a silver medal in the Boys 400 metre Freestyle and a silver in the 15 -16 100 metre Butterfly.
Ryan Hornet, silver in the 17 and Over 100 metre Breaststroke.
Both swimmers qualify for the Schools Interpros, representing Connacht Schools in the National Aquatic Centre on April 14 th 2019 in Dublin. We wish them all the best!
Both Junior and Intermediate Relay Teams came home with gold and silver in the Medley and Freestyle events. There was a great atmosphere in Tuam throughout the day as schools were cheering on their teams and individual swimmers!
We look forward to more successful results in the coming years and hope that new swimmers join our school and represent the school with pride!