Rowing
St Joseph's College "The BISH" Rowing Club is the most successful Irish School boys rowing club with a total of 27 Irish national titles. We also hold 2 British Schools Trophies where we were successful at the British Schools Championships in winning the "Child Beale" Trophy for Schools first 8s. Membership of the rowing club ranges from complete beginners in 1st year right up to those of high Performance Irish Internationals.
Our Head coach is supported by a team of volunteer coaches who have rowed in the past and most but not all have compete for the school well as either having rowed or coached at junior international level. Therefore the coaching available at the BISH Rowing Club to our athletes is of the highest standard. All coaches are vetted and hold coaching qualifications with Rowing Ireland.
J13s to J18s (1st years to Leaving Certs) are encouraged to row and participate in what is one of the school's most competitive and successful sports, both domestically and internationally. The reason for this success lies in our training ethos, which relies on fun and commitment of those volunteers who help out at the rowing club. Most of all, enjoyment of the sport is encouraged by coaches as an essential element in success.
Why Row
Rowing is a challenging sport, which offers our students and young athletes the opportunity to have fun in an outdoor water based environment. However, as rowers' skills develop and they become passionate about the sport, a desire to compete is nurtured. This, coupled with the sense of identity and camaraderie within the sport, makes rowing one of the true great team sports. In addition, rowing helps the athletes to develop as individuals, encouraging them to develop qualities of self-motivation, personal responsibility, tolerance and a will to improve and succeed. Rowing sets up our Athletes for roles later in life and teaches a sense of discipline that can be called on in our Athletes studies and on to their career choices after school and college.
Is rowing and training very hard
Yes it is. That is not to say that training hard is not fun or good for the athletes. When the students of the BISH start rowing in 1st year, the emphasis is on fun and enjoyment as well as learning new skills. There is no point doing a sport you don't enjoy!
From 2nd year and upwards the shift is more towards performance and racing crews for the bigger events. Selection, regardless of age, is on ability and performance. Here the athletic success is 99% a reflection of commitment. It is therefore important that you encourage your son to attend rowing sessions both at the gym and from the club house in Woodquay so they can learn, develop, get fit and strong.
Does Rowing affect Exam performance
Those who initially struggled academically (when they were younger) have found that rowing has helped them organise their time, while ensuring they have a fit and focused mind and body. Rowing is a sport that requires athletes take ownership of their time, commitments, academic and overall wellbeing. To this end, those who do rowing gain skills that help in a wide range of areas especially in their academic lives. There is no need for people to worry about rowing affecting their Junior Certificate or Leaving Certificate as our rowers generally attain better grades than those who don't have a sporting focus in their lives.
Furthermore, rowing helps give pupils discipline in their lives. By having to row on Saturday mornings, the athletes have to think about whether or not to have a late night on Friday. Athletes also have to consider issues such as drinking and smoking, factors affecting teens today.
University Opportunities
Over the past few seasons we have had various rowers take up scholarships at universities across Ireland and as far away as America. Rowing is an extremely popular and important sport to universities and they are constantly on the lookout for top performing junior athletes. Following the performance of our athletes on the national and international stage, the pathway of our athletes to universities in Ireland, the UK and America has become a reality if the athlete wishes to pursue such interest. However, it is not only the top performing rowers that can benefit from the sport. Rowing is an excellent sport to have on your CV, demonstrating positive qualities gained from the sport including team-work and dedication.
If you want to know more or want to give rowing a try – no matter what year you are in, please contact us at the Rowing Club in Woodquay, the school gym or via our email address; bishrowingsecretary@gmail.com
We can also be followed on Social media – on both Facebook and Twitter @Bishrowingclub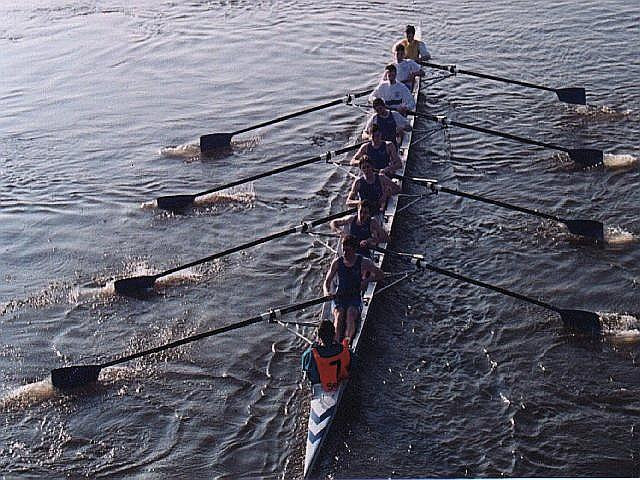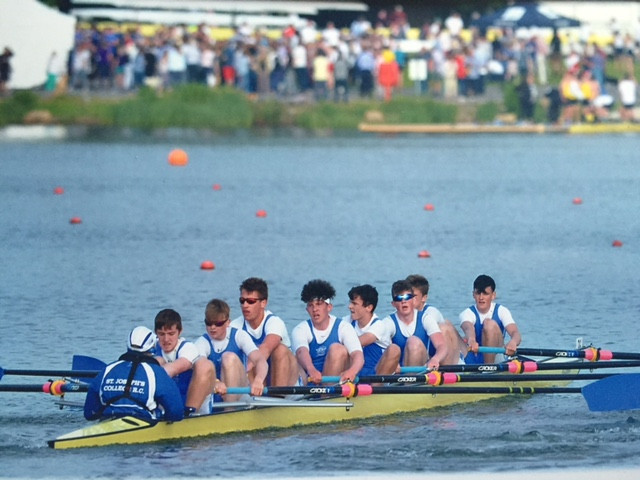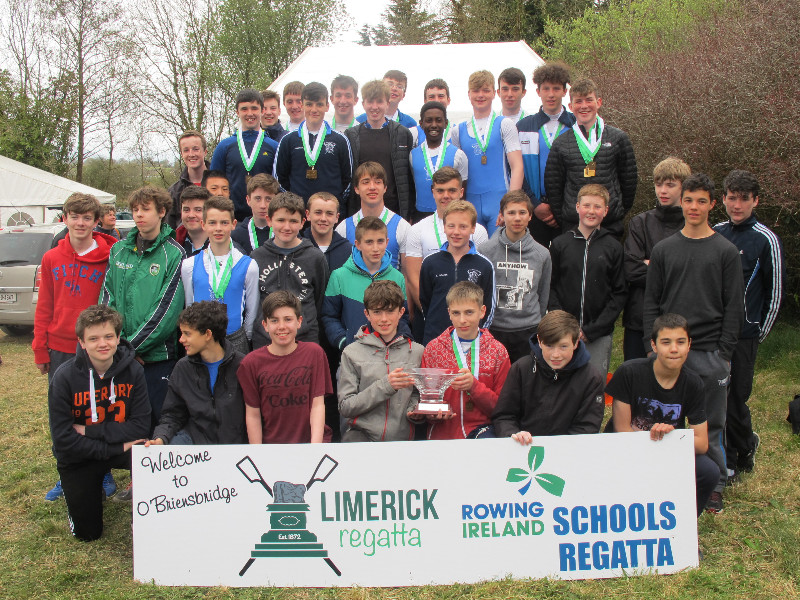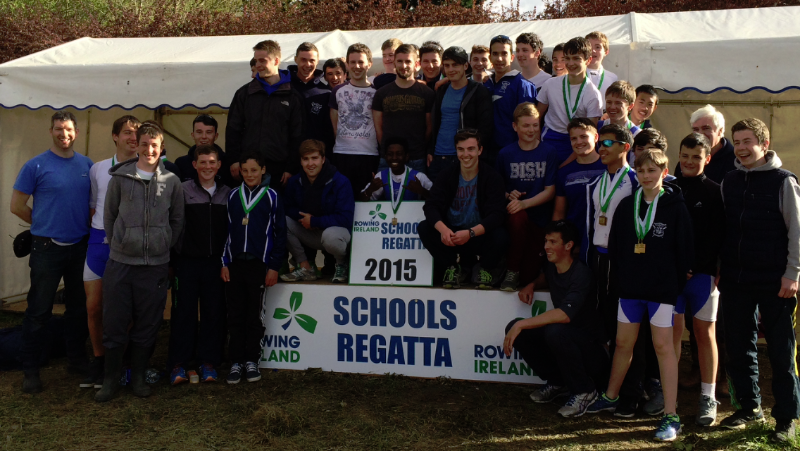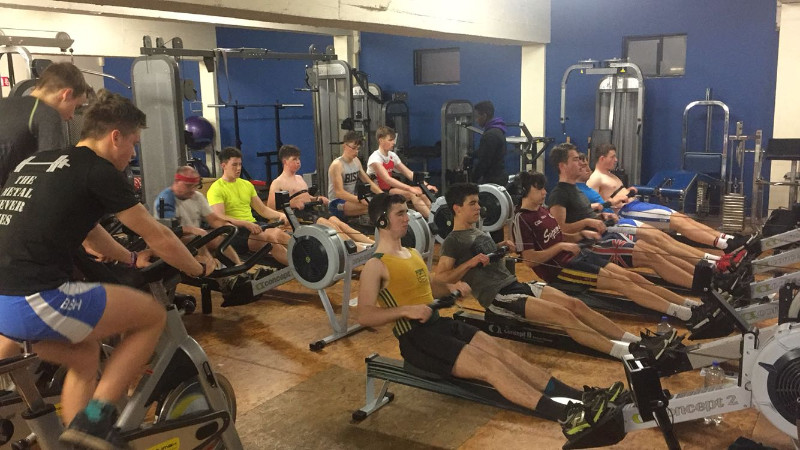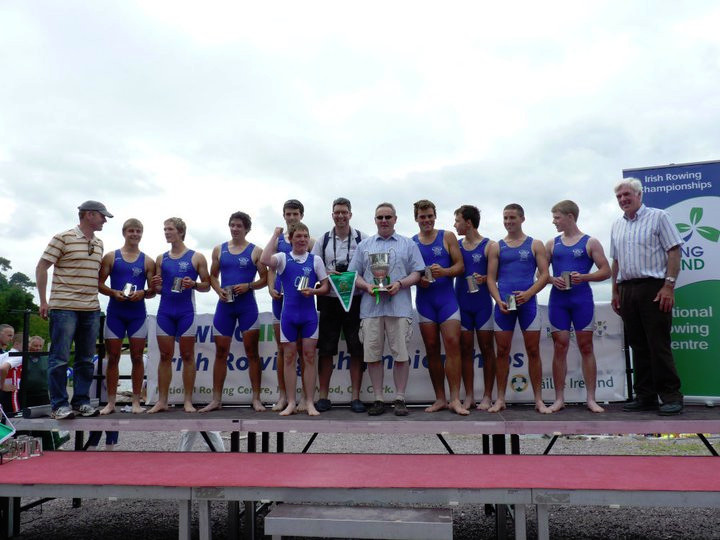 Congratulations to Bish Alum Matthew Gallagher (Class of 2019) who is off to the University Cal Berkeley on a rowing scholarship. Matthew has put his heart and soul into rowing since starting in The Bish. He represented Ireland at the European Junior Championships in Essen, Germany during his Leaving Cert year where he and his crew secured a silver medal. We wish him the best of luck in university.